Natural Hair Care
                    We will start with natural hair care basics.
  When you wash your hair use warm water. I like a hot shower but when you get to your hair turn down the heat. Rinsing with cool water is good for stimulating the circulation in your scalp, but I have a hard time at that.
  After your shower try to use a towel to get most of the water out. Blot the hair not pulling or wring as wet hair is very fragile and vulnerable to breakage. Too much stress on wet hair can strip it of elasticity.
  Wayne's is up to 22 Articles on Natural Hair Care, 1 Visitor Tip and 4 videos. I will also be adding Videos with helpful information like the one below.
  Do you have an article, tip or video for us? We would like to post it! Also see the new Article on Back To School: With getting the kids out to school how muct time do you have for your hair?

Everyone do the tousle Why waves are the all the rage..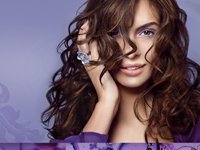 Sure, mom counselled you with that "if everyone jumped off a bridge would you do it too?" bit. But she wasn't thinking about the power of soft, tousled, wavy locks. The beauty trend hit runways several seasons back and shows no sign of letting up thanks to Hollywood's love of anything that makes women look effortlessly sexy and young.
                                 How to Care for Curly Hair
  Have you spent time and energy trying to coerce your ringlets and waves into stick-straight strands? Sunsilk (www.gethairapy.ca) shows you how to make the most of yours:
  Time is the best thing for hair when the blow drying can be skipped. So on your days off let the hairs dry naturally. When you have to get to work, pull out the blow dryer and set it on cool. Try to stop drying when the hair is just damp. There are dryers on that you can get that have a sensors in them that will automatically turn off the dryer when your hair is dry enough.
  To get fuller hair flip your head upside down and fluff hair away from the scalp with your fingers, comb or brush. A tip on natural hair care when picking out a brush pick a natural-bristle brush. The nylon-bristle brush is hard on hair and will cause split ends.
  When using a comb use a wide toothed comb. If your hair is long start at the bottom and working is sections work up to the roots. This should help with the knots and snarls. If you do get knots and snarls try using a conditioner. When working with knots gently pull them apart with your fingers first the us a comb. Always start at the bottom.
  At the end of the day a good brushing before bed time will help close the day. It will also help with dandruff and stimulates the circulation of your scalp.
  As with natural skin care, natural hair care has the same enemy. The sun and wind. Too much and the hair will become damaged and dry out. So when out in the sun wear a hat and there are even sun screen's for the hair.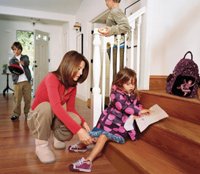 Back To School: Help mom achieve a passing grade . . . for her natural hair care
  So here's a multiple choice survey question for you. With a new school year just launched, which of the following have you had to sacrifice to accommodate the ever-growing list of your kids' demands:
A. Sleep
B. Your hair care
C. Time for a cup of coffee
D. Sleep and more sleep.
  Now, we probably can't help you if you answered any or all of A, C or D, but we can offer a little relief for the morning hair dilemma, especially since when it comes to passing out grades for our hair we're usually our own toughest critic. So, here's a mini tutorial from your friends and fellow Moms at Suave with tips by Harry Josh, celebrity stylist to Renee Zellweger and Reese Witherspoon:
. De-stress Your Hair Care Routine
  Pushed for time in the morning? Try washing your hair the night before. It'll be far more manageable than freshly washed hair. Just wet it just before styling or throw it up in a funky do.
  Get the Right Haircut
  Finding it a challenge to keep up with your cuts? The new trend in haircuts is to have blunt layers instead of shaggy layers. This flattering style will continue to look great as it grows out - perfect for Moms who don't always have time for the salon.
  Mom-Proof Your Style
  If you're a wash-and-go kind of girl, don't go for a high-maintenance style. If your hair is naturally curly and you live in a wet or humid city, forget about that sleek Hollywood look for rushed weekday mornings. Choose a shampoo and conditioner, like Suave Professionals Sleek, that's a great choice when you're craving manageability.
  Add Oomph Without Caffeine
  After a hectic morning of preparing breakfast, lunch and getting the kids off to school, a double espresso isn't the only thing that can give you a boost. Try the salon-tested Suave Professionals Volumizing Mousse to put the life back in your hair. Apply mousse when hair is fresh out of the shower and lift the roots as you blow-dry for a style that won't quit.
  More great contests, beauty tips and hilarious Mommy stories are available online at www.sayyestobeautiful.ca.
- News Canada

  From this page we find information on natural hair care. Articles on hair types ( normal hair, oily hair and dry hair), nourishing oil treatments, natural shampoos, hair tonics and rinses, conditioning treatments, and natural hair coloring.
  Summer is here and it's time to head north for the cottage or south for the sandy beaches. When packing your sun protection for skin, don't forget the one for hair. Yes, hair. Ultra Violet rays lighten and can damage hair, especially colour-treated hair, if left unprotected.
From Sabeeka

  Vinegar is very helpful, it makes the flakes in your hair go away. it is very effective. Put vinegar in your scalp and massage it then wash throughly.
  Hannah's Notes All About Hair from gives us a understanding on hair growth and how we can care for our hair with natural hair care .
  Hair dye is used to color your hair. Hair relaxers are used to make your hair straight. Both hair dye and hair relaxers can hurt your skin, hair, and eyes, especially if you are not careful.
  Here are some great tips for using Henna and a video by Nakia Dawkins.
  How high a price are you willing to pay for beauty? $100 for professional hair coloring? Cancer? Your life? Coloring with henna needs a closer look at coloring your hair.
Hair Healthy Tips for this Summer
  A fresh shade of colour brightens any look and adds richness to one's style. But the summer sun, salt water or chlorine can often make hair look dull, feel like straw and fade hair colour.
  Hair Bands and Ponytails are hot Summer Trends
With a good Video on how to Give a ponytail a sleek-back 60's look.
  Hair colour extremes embrace black and white
  Fashion is going back to basics this season with designers and hairstylists focussing on both ends of the colour spectrum. The runways of London, Paris, New York and Milan were awash with simple black and white streamlined silhouettes like those from Chanel, and hair has followed suit.
  Hair straighteners are more popular than ever. I use a Sedu
hair straightener, most of my friends do and if you still don't
use a hair straightener I certainly recommend using one. But
does this high temperature straightening technique safe for our
hair? Well, not necessarily. Actually, could be destructive and
totally ruin our hair.

  Read on to find the best tips for using a hair straightener and
maintaining a healthy hair with natural hair care.


  Wayne is a strong beleaver in Natural Oil's. Using them for natural hair growth is a great idea. In this article you will get tips for which oils and how to us them. I have not had the chance to read "Aromatherapy Handbook for Beauty, Hair, and Skin Care," but I have put it on my list to learn more about natural hair care.
  Looking for a more natural approach to soft and shiny hair? The solution may be in your kitchen cabinet as we speak...
Dry hair tends to be thin and rough. It is susceptible to tangles, damage, breakage and split ends. We suggest a few remedies you can try at home for managing dry hair.
  Dry weather and blow drying will strip the hair of its
moisture. Shampooing frequently and swimming in chlorinated
pools will lead to dry hair and split ends. Hair dyes, electric
curlers and permanents cause hair to dry out and have split
ends.

  To avoid split ends, follow the following tips and keep your
hair glossy:
  All four of these will make great Hair oil. Do you use an oil on your hair. Let us know which one you use for natural hair care and why.
  Here are eight natural hair tips from Ololade Franklin. At the bottom I have put in some more homemade hair care recipes.
  Everyone has a favourite myth about hair care – and we usually never let the truth get in the way of a good legend! This article examines some of the most widely known - and the reality behind the myths.
  Hair often makes an otherwise plain person beautiful. And practically every woman, if she cares to make the effort, may have beautiful hair. You may find the fix for your hair troubles here.
  Beautifying yourself by applying various braided styles has been an aged-old trend. All it needs is a creative mind that can provide a huge number of hairstyles through different stylish braids.
                              How to Co-Wash Natural Black Hair
  If you wear your hair natural, you are probably familiar with co-washing, or washing the hair with conditioner only. Conditioner washing avoids harsh results from frequent washing with shampoos and helps to keep natural black hair soft and manageable. Co-washing can be done as often as you'd like, even several times a day (this is a plus for natural hair wearers in the hot days of summer).
  Are you looking for a homemade hair recipes? Well I hope you will find what you are looking for in this section. You can help this section grow by adding your own special hair recipe for others!!!