Are you still a wax virgin?
 Wayne'r hopes these tips will help you Wax your Sensitive Skin!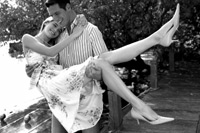 Summer is the time to shed those winter wools and show off some leg. This year's hottest accessory will be sexy, smooth skin - perfect for those hot summer nights spent flirting by the pool. For hair-free skin that lasts for weeks, many women look to waxing - but are too nervous to try it at home.
Do you have that fear? Don't! With the right products, waxing at home doesn't have to be a scary experience.
Products such as Veet Ready to Use Wax Strips for Sensitive Skin (veet.ca) are ideal for wax virgins. Fragrance free and designed for sensitive skin, they are effective on hair as short as two millimeters and they also eliminate the risk of mess and burns by holding the correct amount of wax on each strip.
Here are a few more tips from Veet to make the procedure as easy and successful as possible:
Getting Started
. Test the waxing product on a small area of the skin where hair will be removed. If there is no reaction, proceed.
. If it's your first waxing experience, begin with your legs, which tend to be less sensitive.
. Exfoliate the area to be waxed to avoid any ingrown hairs.
. Wash skin thoroughly to remove residual lotions or oils. If necessary, use talcum powder to ensure the area is as dry as possible.
Putting it On
. Working with one wax strip at a time, warm the wax by rubbing between your hands for five seconds. Press the strip gently onto the skin and smooth firmly in the direction of hair growth.
. Hold the skin taut with one hand and with the other hand, grip the bottom of the strip. In one swift and decisive movement, remove the strip in the opposite direction of hair growth. Repeat as necessary.
. To remove any remaining traces of wax left on the skin, dab them with the back of a used strip.
Taking it Off
. When removing wax, one fast, smooth, pull back is the most effective.
. Never lift the strip of wax upwards. Keep it as close to the skin as possible.
. Just remember the method: smooth down, hold down, and pull back!
. After waxing use the Perfect Finish Wipes, which are included in all Veet wax kits, to wipe away any traces of residual wax.
- News Canada

At-home waxing tips
Whether you spring for treatments at the spa, or reap the savings of doing your own waxing, Rhonda Shupe, professor of cosmetics and aesthetics, offers the following tips:
. Do ensure you are warm, comfortable and relaxed. Constricted pores can make the skin more sensitive to pain.
. Do ensure skin is clean and dry. A dusting of talcum powder removes excess moisture and keeps wax adhered to hair, not skin.
. Do consider becoming your own waxing expert to save money and hassle. One 400g pot of Nair Cire Divine stripless wax can easily cover three full leg waxes at about $16.00 per pot compared to upwards of $150.00 for the same number of treatments in a salon or spa.
. Do be patient. It might take a few tries to get the hang of doing your own waxing, but it's worth it.
. Don't irritate freshly waxed skin with products or immediate sunlight.
Credit: www.newscanada.com
Waxing Video Section
Along with the two arm waxing videos here is an article,
Find out everything you need to know about hair removal by waxing.
Although often seen as a fairly modern invention, leg waxing has its roots in ancient Egypt. Members of the Royalty and the more affluent Egyptians would use waxing as a method of hair removal. It was seen as a way to retain youth and beauty.
-
Here are the Before, During, and After videos for giving an Eyebrow Waxing...
And an article on Eyebrow Threading is a Chinese technique. The eyelid is stretched to make the hair removal easy. Eyebrow threading is a depilation technique which originated in India, although it is also widely practiced in the Middle East.
Here are three good leg waxing videos and Body waxing is extremely popular for both men and women. It's an economical, effective method of hair removal. The one downside? The pain. Use these 5 advice notes to considerably reduce the "Ouch!" factor.
Waxing Article Section
Go bare with money to spare Wax Kits
From mini-skirts to bikinis, with the hot summer months upon us, women are baring more skin. For waxing newbies, the cost of having in-salon treatments can be expensive, and the notion of baring certain areas can be a little intimidating. Rhonda Shupe, professor of cosmetics and aesthetics, advises bringing the spa home and becoming a waxing expert in your very own bathroom for a fraction of the cost of in-spa treatments.
Get your skin ready for this summer's hottest trends with these waxing tips