Hand Care
                               Make your hands more beautiful
                                   with the right hand care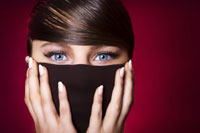 Do your hands look older than you feel? It's not surprising when you think of how much we use and abuse them - exposing them to the drying effects of the sun, winter winds and the harsh chemicals found in many cleaning products. You may be surprised to learn that just five minutes of hand care each day can make a difference. Try these handy ways to keep yours looking beautiful, courtesy of Dove and its Nourishing Hand Wash.

. Protect your hands by wearing sunscreen every day and gloves when doing work that might damage them, such as cleaning, gardening or shoveling. This is the first and most important step to minimizing the signs of aging.
. Slough off dead skin cells and give your hands a smoother and healthier appearance. Mix together some sea salt and lemon juice. Brush it into your hands with an old toothbrush a couple of times a week and then rinse. It's rejuvenating.
. Soften your hands even while you do the dishes. Add a little almond oil (about a teaspoon) to your dishwater. The water will reduce roughness, while the oil seals the moisture into your skin.
. Strengthen fragile nails by heating a cup of milk in the microwave for about 30 seconds (or until warm). Then soak your hands in the milk for about five minutes. Its high calcium content works to strengthen brittle nails.
. Moisturize your hands while you're washing them. Did you know that the average woman washes her hands five to six times each day? This can be very drying over time. Try switching to Dove Nourishing Hand Wash that contains a moisturizing ingredient for clean hands that stay soft and supple.
. Alleviate dry, cracked hands using leftovers. Create a mask with warm mashed potatoes (that contain milk or olive oil) and apply it to your hands. Leave it on for about 15 minutes and then rinse with cool water.
. Lighten age spots that appear on your hands due to sun exposure (hint: they look like large freckles). Simply dab a cotton ball into freshly squeezed lemon juice and apply to the spots twice a day until you get the desired results (usually in about six to eight weeks).
. Brighten dull nails with a little bit of castor oil. Massage a drop onto each nail and then buff using a tissue. Your nails will have a natural, beautiful shine.
. Foster healthy hands with this simple exercise. Clench your fists tightly for a second and them throw them open so that your fingers are spread as wide as possible. Repeat this steadily 10 times. It will help improve circulation and loosen your finger joints.
Credit: www.newscanada.com


                                 The 7-step Home Manicure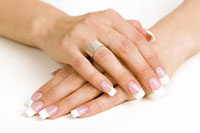 Here's how easy it is to achieve beautiful, polished fingernails without paying the prices of high-end salons, courtesy of Q-tips Cotton Swabs and homebasics.ca:
1. Remove
. Clean off old polish using a cotton ball soaked in nail polish remover. Use a Q-tip cotton swab to remove stubborn bits near the cuticle.
2. Shape

. File nails to a natural looking length, filing from each side into the centre. Avoid weakening nails by over-filing the sides. Choose your nail shape that best suits your fingers - square, round, oval or pointed. Oval works best for most people.
3. Moisturize
. Rub Vaseline Intensive Care Healthy Hands thoroughly into your hands and around the nails. Give your hands a quickie massage - squeezing the palms and massaging each finger - to improve circulation and relieve fatigue.
4. Soak
. Soften skin by soaking hands in warm, soapy water. A little body wash works nicely.
5. Neaten
. Tidy up unruly cuticles. Using an orangewood stick or a damp Q-tip cotton swab, gently push back cuticles, revealing the little "half moons" at the bottom of your nail.
6. Polish
. Apply a clear base coat to keep your nails from absorbing pigments from the polish. Then apply two coats of colour and a clear top coat to help your manicure survive everyday wear and tear. The trick to perfect polish? Three 3 strokes only - one down the centre of the nail, and one down either side.
7. Tidy
. If you do paint outside the lines, dip a Q-tip cotton swab in nail polish remover, dab on a tissue to remove excess, and wipe off the stray polish. Using a Q-Tip prevents the polish on your other hand from smudging.
Credit: www.newscanada.com
Sent In Homemade recipe
Sent In Homemade recipe
Beauty INside: Body care.
Pineapple Oat Body Peel
A gentle exfoliator to revitalize skin.

To prepare;
Blend 1/2 a peeled and cored pineapple with 2 tablespoon of finely ground oatmeal in a food processor to form a paste.

Rub pineapple paste on a small area of your hand in a circular motion.

Wait and check.If you have no adverse reaction,rub paste generously on to the rest of your body.

Focus on the area that is dry and calloused. Leave for up to 10mins.

Rinse with water.

Pineapple is rich source of natural enzyme-bromelin,well known for its exfoliating properties.

Oat is useful for removing surface dead skin cells.

Oat contains some vitamin e and is very effective in smoothing dry skin.

I would like to Thank Aryna for sending in one of her many recipes on her blog. Click Here for more Beauty Inside
                             Hand Care articles and Manicure Tips :
Our hands are on display every hour of every day.
Before we can start the at home manicure let's look at Danielle's article on How To Give A Manicure. Then after the article we will give some homemade recipes for a manicure.
You will look good with this At Home Manicure with Homemade Manicure Recipes