New Product Review
I have always been excited about the cottage homemade skin care market and now our new product review. For the past 5 years most of my time has been On The Look Out for skin care ingredients information and recipes to pass along to you.
Now we have added our review section for those of you that have taken on all of the challenges of making, packaging, and getting the word out on your products.
The latest products to review come from Natures Brands sent in by Mary Inoa...
The products that we will be reviewing are..
This organic facial scrub is a very powerful scrub that removes all impurities from your skin. So just in case you all want to know, January and February were the months that I used this scrub. With all the dry skin that these months bring on, this scrub was hands down the "primo" of all scrubs. It removed all of my dry skin and left my skin feeling smooth and moisturized.
First of all the smell of apricots is so wonderful you will want to eat it up! It is all natural and contains organic ingredients so everyone can enjoy. I used this twice a week and it kept my skin clean and moisturized. This is a wonderful scrub for those who want a good cleaning without stripping your skin and it even tastes good!
And
This foundation is a moisturizing foundation with high coverage. As you open the jar you smell a light fragrance that is so inviting. I used this everyday and could not believe the "light" feeling on my face. Also, it absolutely did not change color as some foundations do as the day wore on. The foundation dries quickly so you can continue with your make-up routine and finish within minutes! This foundation is a great addition to the organic skin care line!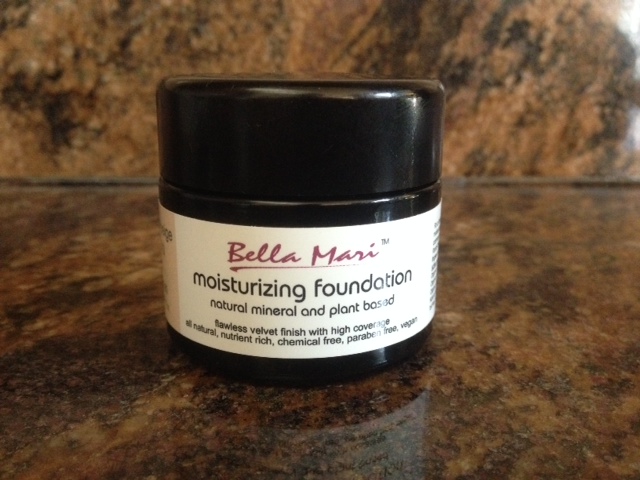 Karen picked Bella Mari Light Beige B10 which has a SPF of 30
Check back soon for the complete review
This New Product Review Was sent in 01/13/12.
From Lily at Lily Organics Since 1986
This is a great product line for people with dry, normal and sensitive skin. Lily Organics have a trial pack for each skin type for $25.99. Each pack will give you enough product to give you a good idea on how it is going to work with your skin type.
I realy like that all of these products use all natural ingredients When you look at products in the stores you will see in big letters "Argan Oil" and then read the lable and argan oil as the 10th ingredient. In these products great ingredients from the first listed to the last.
SEAWEED BALANCING FACIAL CLEANSER
This facial cleanser is good for dry skin, sensitive skin , or then the air is real dry like the winter. It did not take the oil out of my skin but left it clean. I used it in the shower in the morning and before and after the rejuvenating enzyme mask.
If you have oily skin more than likely will need the toner.
Ingredients
(VEGAN) Water, seaweeds, Lily's homemade almond oil soap, pure essential oils of lavender, rosemary, sage, tea tree oil, vitamin E, lemon juice, and citrus seed extract.
BALANCING FACIAL TONER
I'm a real big fan of aloe and to see that it is the second ingredient on the list is great. Second when it comes to toners I have always tryed to push Witch Hazel when asked about toners.
I have sensitive skin so I used this toner in the morning while in the shower on my nose and chin. While in the shower the pores are moist open and more receptive, and being used at the end of my shower I made the most of it.
I realy like this product and would recommend starting with the trial size.
Here is the Ingredient list,
Purified water, aloe, witch hazel, lily flower, certified organic eucalyptus leaf, certified organic comfrey root, certified organic fennel seeds, certified organic calendula, certified organic elderberries, certified organic chamomile, certified organic lavender flowers, certified organic nettles, certified organic shavegrass, certified organic coltsfoot, white ginseng, certified organic kelp, bee propolis, kosher vegetable glycerin, citrus seed extract, and pure essential oils of sage and lavender.
KUKUI SENSITIVE FACIAL OIL TREATMENT-UNSCENTED
If you are looking for an oil to use at night this one would be a good oil to try.
Any time a product has the wording "Prevents Mature Aging" to me it has to have some kind of sunscreen. Sunscreens to me are the only prevention to aging skin. After being out in the sun this would be good, but I would not ad this to a product before going out in the sun. There is no sunscreen in this oil.
Ingredients
Kukui nut oil (aleurites moluccana, vitamin C - ascorbyl palmitate, vitamin E -D-alpha tocopherol) Certified Organic By the Colorado Department of Agriculture
REJUVENATING ENZYME MASK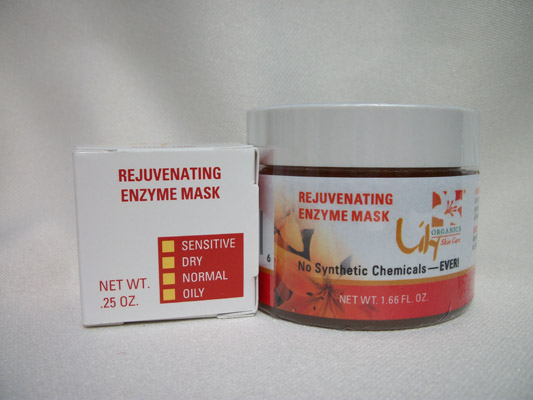 This mask is listed for skin type Skin Type Normal to dry, combination, sensitive & damaged skin and I can not agree more. After using this mask my skin felt more moisturized. If you are having troubles with your face this may be a good once a week mask. Even with the trial size you will be able to get four good applications.
Big thumbs up on this mask.
Ingredients
Honey, papaya, pineapple, certified organic comfrey, lily, horsetail, mint, vitamins E and C, citrus seed extract.
----------------------------------------------------------------
This New Product Review Was sent in 08/29/11.
Look for the review with in the next two weeks.
From Boaz Ben Zeev at Kianomer Spa
Dead Sea Mud & Salt Soap

This Dead Sea Mud & Salt Soap was a hit with me and my son Cam. Cam will be 13 this weekend. Just after I started using this soap Cam had his first brake out with acne.
Not wanting to give up the soap I gave it to him to use. In four days his face was all cleared up.
This is a glycerin soap with Mar's Sal, (Dead Sea Salt), Limus ( Dead Sea Mud), Aloe Barbadensis flower Extract, Tocopherly Acetate, Geranium Maculatum oil.
This is the first soap that I have used that left my skin fealing real clean and just enough moisture to last the night.
The bar has lasted in the boys shower for two weeks and will go another week. Both boys are usings it.
This realy is a two thumbs up soap!!!!
Protector Eye & Decollete Cream

I used this cream around my eyes at night becaues it is a heavier cream. Getting a lot of emails for what to use around the eyes this would be a great cream to use.
After three weeks the dark circles under the eyes were lighter and my eyes were also less puffy.
This is a good night cream to use around the eyes and neck. You have delicate skin around the eyes and this is one cream that you can use.
----------------------------------------------------------------
This New Product Review Was sent in 08/15/11.
From Jade Stevens at Rhone Botanicals& Skin Care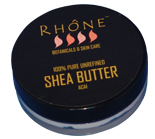 Shea Butter & Lavender essence
It was Shea Butter that got me into skin Care in the beginning. The over the counter product had Shea Butter in big letters on the label. When I read the ingredients list it was the 8th ingredent listed.
Rhone's Shea Butter has Shea Butter as the first ingredient. Mixed with organic jojoba oil and Lavender essence.
This is a whole body butter. It is good for your, feet, elbows, hands and face. Just a little dab will go a long way.
You just want to make sure your skin is not allergic to the Lavender oil.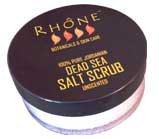 Dead Sea Salt Scrub Lavender
I'm on the search for information on dead sea ingredients so I was excited when Jade sent this along with her other products.
This is not like a suger scrub this is much coarser and will really exfoliate the skin. Along with a scrub this makes a great foot soak ingredient.
Karen first used it in the shower on her feet, removing a lot of her dead skin cells from the sun that built up over the summer. Along with smoothing out her heals and toes. The dead sea salt scrub did not leave the shower slippery with to much oil.
The second time I scored some brownie points with Karen with a foot treatment using both the scrub and shea butter.
First I filled the bath room sink with warm to hot water. After using the scrub on her feet I wanted to use the dead sea salts as a soak as well. She let her feet soak for 15 minutes and the used the shea butter as a moisturizer.
This is a true Lavender and left both Karens feet and the bathroom were filled with the Lavender scent.
I would definitely use this over any of the suger scrubs, I works better and you are getting a great foot soak as well.
Big points scored!!!
And two lip balms
MANGO Shea butter lip Balm
MANGO -Unrefined Shea Butter , Organic Jojoba, Mango Seed Oil, Mango Flavor Oil, Mandarin
This lip balm will just melt on your lips and last a long time.
All of these products are good for everyday ues and will make great stocking stuffers and gifts all year long.
Karen and I both really enjoyed all of these products.
-----------------------------------------------------------------
-----------------------------------------------------------------
This New Product Review Was sent in 06/03/11.
Aragan Oil
I'm so glad that Kelly O'Shea from Essence of Argan sent in this great oil to review.
Out of all the oils out there this is truly a healing oil and does not have to be put into a recipe, but I did as well!!!
Starting off the week of use, I tried it in a face mask to start. Not only did I want my skin to be clean but also my pores? This is the recipe I used.
1 tsp of Aloe Vera
1 tsp of French green clay
2 pumps of Argan oil.
With the oil in the mask it took a little longer to dry. 10 minutes.
After washing it off I put it on a small amount on my face, hands and arms for the night.
I try to keep up with the care of my face as most of us do, but in the morning my arms and elbows that got the most moisturizing benefit.
For the week I applied just a small amount on my face, hands and arms in the morning and at night.
The only difference was in the morning I would run my hands through my hair to hold it in place for the day. It would hold my hair in place and not look greasy.
Also one day out in the yard all day I did get some sun even though I had sunscreen on. After a shower I mixed 1 tsp aloe Vera and two pumps of Argan Oil together for and after the shower moisturizer.
At the end of the week my skin for one did not break out. And even being just over 50 my skin would have broke out with other oils.
Hands down (no pun intended) it was my elbows that got the best relief.
On the program "The Doctors" they had a tip of using Almond oil for helping the dark circles under your eyes. I would use Argan oil instead. The one point they did make is it would be a month before one could see any change in coloring. This is a good point when it comes to skin care, give it time there is no quick fix it is the good skin care routine that will give you the skin you are looking for.
To give a good review I look for the good first and then the down side. I spent more time looking for a down side to this oil and could not come up with a thing. The oil is good for your skin; you can use it on your hair, mild enough to us on a babies skin and you can use it for cooking. Yep you can eat it.
And that is not even getting into what it does for the working conditions of Berber Women in Morocco. That is another story in itself.
When it comes to a product the packaging can make or break a good product. The pump is first class when it comes to using oil. It gives you the right amount that you will need. One or two pumps. It also keeps you hands from getting into the container and contaminating the rest or your oil.
This oil is good for moisturizing but as well healing. I'm sure there is a part of your skin that could use Argan oil. For me it will be under my eyes and my elbows.
-----------------------------------------------------------------
-----------------------------------------------------------------
This New Product Review Was sent in 07/08/10.
Be Natural Organics
The Be Natural Organics Website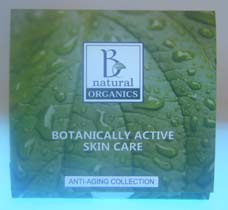 This Anti-Aging Collection came with four samples.
Step 1
Bio-Active Cleansing Treatment
You only will need a small amount on your palm. This works up a great lather in no time. Even though it has a creamy feel to it when you are massaging it into your face and neck, it rinses off very clean.
The creamy feel and the thick lather gave me the idea the next morning to use it as a shaving cream. It worked great! If I were Be Natural Organic's I would make a two 4oz package set so you could keep one by the sink and one in the shower.
Step 2
Daily Botanical Enzyme Peel
Right after washing and drying my face I put on a small amount of the Enzyme Peel on. My skin had a tingling feeling to it. I even put it around my eyes and it was not too harsh for my sensitive skin.
Step 3
Niacin Complex Balancing Mist
This is a very light liquid and gave my skin a cool feeling to it.
Step 4
Sea Kelp Moisturizer
The Sea Kelp moisturizer has a very light green tea smell to it. My skin soaked it right up. This did not leave my skin feeling greasy at all.
My Over All Thoughts on this Product.
First
The first ingredient on their list is Aloe Vera Juice. Now I have to say I'm the biggest believer of Aloe Vera. It has been used on peoples' skin forever with good benefits. So if you have skin that can be sensitive to skin care products I would give this skin care routine a try.
Second
I get the question at least three times a week about the wanting to mix more and more ingredients together. Now you cannot get an "all in one" mixture to do it all. You can not mix an exfoliant with a moisturizer, they are not trying to sell more products, it is just the way it works.
This is a four step routine. Cleanse, exfoliate, then a balance mist and then finish with a moisturizer.
It does not take that much time to do all four steps. This is a good start to a new skin care routine. If there is a step that you would like to change or there may be one step that does not agree with your skin, then you can change one step and keep what is working.
At last I really think this is a well made small batch product. When you do order it, it will be fresh and do what the lable says it will do.
They sent the Anti-Aging Collection if you are thinking about a new start to your skin care I would give this a try. With any skin care change you have to give it some time, there really is no over night miracle cream....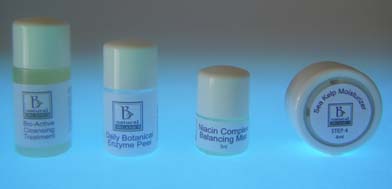 -----------------------------------------------------------------
This New Product Review Was sent in 3/19/10.
Moor Mask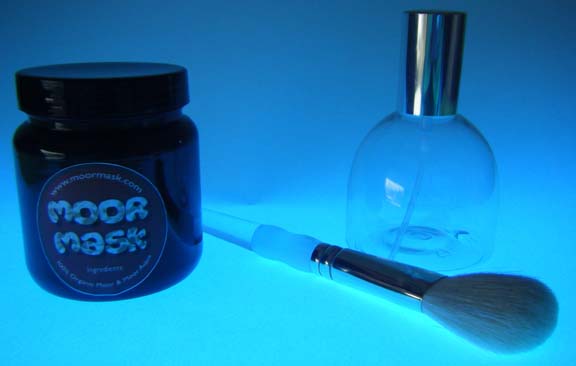 This new mask is a 21 day program that I will be starting on 3/21/10 and as I use it I will be posting in a blog style on how it goes...
Day One 03/21/10
With just a little stir on went the mask. It does come already to use out of the jar. No need to add water.
I went over my face two times to make sure it was covered, and on thick enough.
Filling up the spray bottle with warm water to keep it from drying out. Then I came up with the idea of filling up the sink with hot water and holding my face over the sink to not only keep the mask moist but great for my sinuses.
It's the spring time and here in the south, trees are starting to bloom and my nose can tell you all about it.
Day Two 03/22/10
After a long day of flying I ended up in Jacksonville Fla. To end the day with Moor Mask. The 5 minutes was a great way to unwind. The only mistake was putting a little too much water on during the mask. Not that it washed it off only making it a little thin on one side.
It left a clean feeling and smooth skin. I am not putting any other creams on my face to see what the affect of the mask will be on its own.
Day Three 03/23/10
It was the next morning that I saw the first change. It was in shaving. I got a real close shave. Now I'm not sure if it was because my whiskers were standing up more or if it was because my skin was softer. I do know it was not my razor. I use inexpensive disposable ones and it is not new. Even at the five o'clock shadow time my face was still smoother than it has been at that time.
Day Four 03/24/10
Well my son Ben and I were out late at the BobCats game and having to get up early the next morning I did not take the time to put on the mask tonight.
In the morning I still got a close shave.
Day Five 03/25/10
Tonight I found out that if I take just a little water and run it through my hair it gets it off my face so the mask does not get in my hair.
By day five it is starting to get to be a routine. I have my towel ready. With the mask on I brush my teeth. Spray more water on the mask. The five minutes is going by fast.
After 5 minutes I rinsed off the mask with warm water.
While the mask was on I was thinking if I would have to wash my face. Although there was no need. My face felt very clean.
With the black color of the mask, the steam from the sink, The clean skin, in the end it did feel like I had been to a spa.
Day Six 03/26/10
The skin on my nose when I started was on the red side and today it is more the color of the rest of my face.
Also I found that when I use my left hand to rinse the left side of my face and then use my right hand to rinse my right side of my face, the mask comes off quicker and there is less mess in the sink.
When I have gotten the mask on my shirt even though the mask is black it does not stain.
Day Seven 03/27/10
Well this is the 1/3 of the way through the program. My skin is really softer and I am liking the close shave.
I have to spray my face three times to keep it moist at this time. The mask product has a little water on the top so I know that it is as moist as it was when I started.
Karen says she can see that my face looks smoother.
Day Eight 03/28/10
I am sticking with the 5 minutes each night. Tonight I did change it a little by brushing my teeth while the mask was on. I only had to wait another 1 minute until taking off the mask.
Day Nine 03/29/10
Well I was running out of steam today so I did my mask and teeth early and got ready for bed around 8:00pm. Having to get up a 5:15 in the morning. This is something I would do at night for sure.
Day Ten 03/30/10
Well I'm out on an over-night and during the day in my bag some of the water leaked out of my mask. I did keep it in a zip lock bag so no big deal. So I just added a little to my jar. That is one thing I do not know if it is water or something else?
For the last 3 days I have not seen any change in my skin from day 4 and 5.
Day Elevin 03/31/10
I got this not from Meg.
Hi Wayne
Have been reading your review blog every few days (it's very personable and interesting) and just wanted to let you know:
You should be building up to leaving the mask on for 10 minutes. Over the course of the 21 day program - the final 10 days and thereafter on maintenance applications – the mask should remain on your skin for 10 minutes – this is probably why you have not seen any progression over the last few days?
The liquid in the jar IS water – but it is water from the moors. If you are adding water to the jar to keep the mask moist – please ensure you use bottled or filtered water as normal tap water can contaminate the remaining mask in the jar.
Please don't hesitate to email if you have any queries.
Happy Easter!
Regards
Meg
This is one reason I like the cottage products. It is easy to keep in touch with the people making these products. And you find out more about what you are using and how to use it to get the most out of it.
I changed the time up to 10 minutes.
Day Twelve 04/01/10
With 2 nights of leaving the mask on for 10 minutes each night I can feel and see my skin has changed. My color is more even. My forhead is less red and by know my nose is the same color as my cheeks.
When I was in the third grade I was hit by a car in the winter. My face got a lot of cinders in it and my nose had to be scrubbed with a brush to get them all out. So my nose skin is very smooth but has been on the red side, especially in the summer with the sun.
Today it is supposed to be in the 80's and a lot of sun...We will see how this mask works as the season changes from spring to more of a summer weather.
Day Thirteen 04/02/10
Well my skin does seem to be getting softer. I find myself feeling my face during the day. Even with a little sun on my face it was not dry at all. I still have not used any other creams on my face.
Day Fourteen 04/03/10
At the end of the day my whiskers did not seem to be like the old 5:oopm shadow. Tonight I did have to add some bottled water to the mask. It was getting dry around the side. So I scraped it all down to the bottom and then added some more water. And I am still keeping it on for just over the 10 minutes.
2/3 rds of the way through the program and my skin feels good!
Day Fifteen 04/04/10
Well here it is Easter and what a long weekend. I got sometime to myself with the mask. My skin has a even color even having been outside for most of the day.
Day Sixteen 04/05/10
My skin seems to have a bounce back feeling to it. After a full day of flying my skin still feels good.
Day Sevinteen 04/06/10
With only four more day to go there will be enough mask for a full 21 days. The sprayer has work well and the brush has only lost a few bristles. My forhead has a smoother look and feel than when I started.
Day Sevinteen 04/07/10
Well my 5:00 shadow is all but gone. I am getting a really close shave. And my skin has an even color even with some suntan on my face. Still not using any other skin care cream on my face and it is not dry.
Day Eighteen 04/08/10
Well with spring here my face has gotten some color. I thought that the mask would be to dry on my face. But my skin is still soft and smooth and the tan is not showing any sign of drying.
Day Nineteen 04/09/10
I left the mask on for 15 minutes. Well I put it on and Karen was watching the tv and I got hooked on the show. I did keep it wet. It turned out ok being on that long.
Day Twenty 04/10/10
I find my self feeling my face more just to feel the soft skin. And not only being soft it is plumped up.
Day Twenty-one 04/11/10
Well out of the 21 days I only missed one night. I still have enough for four more nights and will wait a month and use it for 3 nights in a row then.
My skin is a lot smoother and more even in color. The sprayer and brush held up great. There was just a little drying of the mask that made it a little lumpy in the end but no big deal. I would buy two small bottles over one large one.
This would be a great add to your product line if you own a spa. Start with the one treatment and then sell a bottle for your customer to take home...
I would like to thank Meg for sending her mask for me to try!