Sunburn Skin Care Tips
Here are some quick sunburn skin care tips to help you get started.
Here are sunburn skin care tips that will help you all year long. Lets start with these for the up in comming Spring Break tips from News Canada.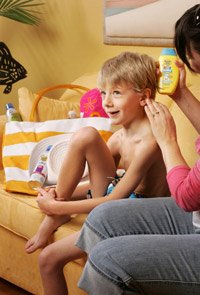 Tips to Avoid Getting Burned This Winter Break
By Karen Petcoff
As families flock to the beach during the mid-winter school break, it's important to make the most of your vacation by using a little common sense to protect you and your family.
1. Pack a hat. If you're planning to be out especially between 11 a.m. and 2 p.m., peak sun hours, wearing a brimmed hat makes sense. Any adult or child who gets their hair styled in the popular corn rows or braids offered by many resorts should be particularly mindful of wearing a hat to protect their scalp from burning. Tilley Endurables (www.tilley.com) offers one the widest selections of fashionable, popular hats for travellers.

2. Sunglasses. Whether you're on the water, the beach or the road, sun in the south can be very intense. Protect your eyes from the sun's ultraviolet radiation (UV) with a pair of sunglasses. From celebrity-style to aviator, designers like Lacoste make sure you look hot while getting the eye protection you need.
3. Sunscreen. Pick a sunscreen that protects against UVA and UVB rays, both of which are harmful, with a high sun protection factor (SPF). Banana Boat Suncare has just come out with a sunscreen in a convenient spray format that offers SPF 50, meaning you can stay out in the sun up to 50 times longer without burning than if you weren't wearing protection. Check out the Banana Boat website for more suncare tips at www.bananaboat.com.
4. Read the fine print. Before booking your holiday, or while checking out daily excursions during your vacation, be sure to check the details involving any extra costs you might be incurring. If you have any doubts or questions, check with your tour operator's on-site representative. After all, no one likes getting burned on a family vacation.
Credit: www.newscanada.com Photo credit Malcom Taylor
Here are some more Sunburn Skin Care Tips.
These two sunburn skin care tips may sound lame, but think back on the last time you or the kids got sunburn. Wasn't that long ago was it!!!

The two most often made mistakes we make about our skin and the sun are,
FIRST PUT ON YOUR SUNSCREEN 30 MINUTES BEFORE GOING OUT!!!
PUT MORE SUNSCREEN ON you, just put it on... GO PUT MORE ON and take it with you, you will need to put more on during the day.

I Know I get turned around with the kids too. Just today, when I was putting the bread back after breakfast, I put the bread where the toaster goes and I tried to put the toaster in the fridge before I came around.
It's all in the habits so I try to get the sunscreen on before the boys brush their teeth. That can take 30 minutes. Now I'm giving you Sunburn Skin Care Tips can you give me some tips to get the kids to brush their teeth....
A sunburn will not show right away. Pain and inflammation may begin 3 to 5 hours after the damage has been done. This may not peak even until 15 hours later. This sunburning of the skin breaks down your skins store of elastin and collagen, the materials that give skin its firmness and elasticity, causing wrinkles.
THERE are many different studies on the SUN and SKIN. With the sun being number 1 cause of SKIN CANCER. Depending on which study it can be from one blistering burn as a child to 3 blistering burns durng your life. If you have had a severe sunburn in your past you should let your doctor know.A good sunburn skin care tips. Even if it has been several years ago.
It's no secret that UV damage can cause premature aging and skin cancer. A DNA test is now available over the counter that can assess your skin's level of UV damage.

It's no secret that UV damage can cause premature aging and skin cancer. A DNA test is now available over the counter that can assess your skin's level of UV damage.
Sunburn Skin Care Tips WHAT TO PUT ON?
IN Short, SPF 15 is a good start. And over SPF 30 is not that much extra help. Putting on alot of SPF 15 is even better than to little SPF 30.
-

There is some confusion about: AGING SKIN and PHOTOAGING
Natural AGING is a condition in which there is a deeping of the normal expression lines and loss of the skins elasticity and thickness of skin.
PHOTOAGING Is the term for skin changes that occur only when the skin is exposed to significant amounts of sun or other sources of ultraviolet radiation.
TYPES OF SKIN:

Type 1: Always burns, sometimes painfully; seldom or never tans; extremely sensitive to UVR.

Type 2: Usually burns, sometimes painfully; sometimes tans, but not very much, may peel, very sensitive to UVR.

Type 3: Burns moderately; tans gradually; sensitive to UVR>

Type 4: Seldom burns; tans easy and reacts with almost immediate darking of skin; (IPD immediate pigment darkening); moderarely sensitive to UVR.

Type 5: Almost never burns; tans easily and considerably; IPD reaction; minimally sensitive to UVR.

Type 6: Never burns, but tans greatly; IPD reaction; not sensitive to UVR.

Try to remember back in time when you were out in the sun for 45-minutes at high noon on a hot summer day, without any sunscreen on. Do not go out and do this just think back.

Did you burn or start a slow tan? The differences between the burned skin and the the slight tan may only be about as much as if you were wearing a SUN Protection Factor (SPF) sunscreen of 2 or 3.

If you have developed a gradual deep tan, that offers you at most the equivalent of an SPF of 4.

That's not much considering that the SKIN CANCER FOUNDATION recommonds that everyone use a sunscreen with an SPF of 15 or higher.
If you are going to get a tan get a slow one. Go to there website for more sunburn skin care tips.

Latest Sent In Sunburn tip
For Burns and Scars
: Mix 1 drop of Lavender and 1 drop of Geranium with a couple of teaspoons of Aloe vera gel, store in a small glass jar. I use this for burns, it cools and soothes, takes the redness out of the skin and prevents scarring. Simone in Barnsley.
Articles about your skin and sunburn skin care tips
How to Repair Sun Damage Skin with natural oils.
All the major sun product companies make after sun preparations. Here is more information on these preparations and recipes
Over-exposure to the UV rays usually results in skin damage of different forms: blisters, redness, swelling, but you may also feel dizziness and nausea as well. Severity of the sun burn varies from superficial to deep tissue injuries, being incredibly painful and uncomfortable.
By Eric Marsden, BSc, ND
While you are right to be concerned about over-exposing yourself to it, the sun is, essentially, healthy. Moderate exposure to sunshine has positive effects on not only our health, but on our well being as well. Read more...
Simple summer skin care
The lazy, hazy days of summer are right around the corner - and summer skin care doesn't have to be a chore. Just simplify your routine with fuss-free products that are ideal for this sizzling season
It's vacation time, and you need the perfect tan. Yes, the sun's natural rays can be harmful, but a few steps and precautions will make going to the beach fun again.
At some time or another, we've all experienced the effects of sunburn – be it a light burn or a more heavy burn. Although the sting of regret of inadequate protection (from UV exposure) can be an excellent incentive to plan more carefully on 'future' occasions, it's of little help in soothing the immediate physical sting (i.e. pain) accompanying sunburn. However if you 'have' found yourself having spent a little too much time in the sun, -- here are 4 natural home remedies to help ease the pain of sunburn, and assist in the body's healing process.
Now that sprin is around the corner the summer skin plan should be under way. You may even be going on a spring brake. So after reading this article put the plan into action! Befor you need sunburn skin care tips.
Natalie Katsman has put together a good article for dry skin and oily skin in the summer. I also like her summer recipes.
From nothern to southern climates we all need Suncare protection and Sunburn Skin Care Tips
Here is another good article by Natalie Katsman putting together a short explanation on the UV Rays and Sun Skin Care. Good tips on what your skin needs and vitamins for sun skin care.
                                       SAFE IN THE SUN
BY MARY-ELLEN SIEGEL
See her book review on the book revirw section.
No matter what the season you may be in or what time in your life, this book is an excellent source for sunburn skin care tips.
Disclaimer: All medical concerns should be directed to your famly doctor.