Suncare protection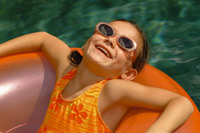 From News Canada Suncare protection before, during and after.
(NC)-After months of enduring the cold of a Canadian winter, the urge to merge with the rays of the summer sun is irresistible, but don't get burned. Be patient, apply a sunscreen and, above all, use common sense.
Skin Deep
A great tan starts on the inside. Two weeks before you start tanning, begin taking a supplement containing the antioxidant vitamins A, C and E.
The Burning Issues
Choose sunscreen products that protect against both UVA and UVB rays, like Compliments Sunblock Lotion in SPF 15. This type of protection is called 'broad-spectrum' and the Canadian Dermatology Association (CDA) recommends at least SPF 15.
However, if you plan on spending all day outdoors, you will need to increase your level of protection. For example, if your unprotected skin burns with five minutes exposure to UVB rays, and you plan to be in the sun for 150 minutes, use an SPF of at least 30. The formula is the SPF number (in this case 30) times five (the number of minutes it takes for your unprotected skin to burn). And, remember to always reapply your sunscreen after swimming and if you are sweating.
Nothing feels more soothing after a long day outdoors than slathering on some cooling and soothing aloe vera gel. One to try is Compliments Aloe Vera Gel, available at Sobeys, IGA extra, IGA, Foodland and Price Chopper stores.
More information is available online at www.compliments.ca.
- News Canada
These are some good tips for suncare protcation to get you started. Ff you would like even more information on your skin and the sun I found that this book
Safe in the Sun
by Mary-Ellen Siegel
I could not say it better by Carolyn L. Ellner, Ph. D. "This book should be read by all educators and its message addressed in all our classrooms as part of good health education." This is the Queen of books for suncare procation.
If you have young children this book is for you. I wish mom had read this Book when I was young. A Skin care book reviews by Wayne'r 2 thumbs up.
The Skin Cancer Foundation recommends that everyone use a sunscreen with an SPF of 15 or more. They also grant its seal of recommendation to sunscreen products of SPF 15 or greater that meet the foundation's criteria as "aids in the prevention of sun-induced damage to the skin." Recipients of the seal of recommendation consititute a continually changing list.

Each year some products may be deleted, others may be added. Thus, we suggest that you check every year.
You can go there now to to see if your suncare protection is on their list.
The Skin Cancer Foundation or call 1-800-SKIN-490
From nothern to southern climates we all need Suncare protection.
Suncare Protection