Wax Kits
                          Go bare with money to spare Wax Kits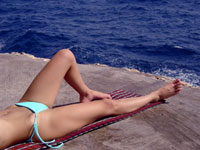 From mini-skirts to bikinis, with the hot summer months upon us, women are baring more skin. For waxing newbies, the cost of having in-salon treatments can be expensive, and the notion of baring certain areas can be a little intimidating. Rhonda Shupe, professor of cosmetics and aesthetics, advises bringing the spa home and becoming a waxing expert in your very own bathroom for a fraction of the cost of in-spa treatments.
"At-home waxing options have come a long way," says Shupe. "From wax strips and stripless waxing kits, there's a solution for everyone's needs. It's now easy to get at-the-salon results right in your own home with a few tricks from the trade."
Waxing poetic - what you need to know before you begin
For best results, wait until your hair is at least one-quarter inch long. If you wax hair at this length you will be more likely to get the entire papilla.
If you are new to at-home waxing, start with the basics, like your legs, which provide an easy training surface. As you get more comfortable, graduate to other areas of the body (don't attempt a Brazilian on your first go). Do a patch test with any new product before getting started.
Make sure you are comfortable and warm. If you are chilly, your pores will constrict making skin more sensitive to pain.
Prep the area to be waxed by making sure it is clean and dry. Shupe suggests a light dusting of talcum powder in the areas where you perspire to absorb any excess moisture so the wax adheres to the hair, not skin.
Depending on your level of comfort and experience, choose your application method accordingly. "Wax strips are great for beginners because they are easy to prepare - just massaging between your hands melts the wax. And if you make a mistake, you can use the same strip in another area," suggests Shupe.
Shupe also recommends stripless wax kits like Nair Cire Divine because of their affordability and ease of use. "They heat in the microwave in minutes and there's no need to use cloth strips, which saves you a step every time because the applied wax acts as the strip. Stripless wax coats the hair completely, resulting in effective hair removal even on short hair leaving skin smooth and irresistibly soft."

To ensure success, Shupe reminds to apply the wax in the direction of the hair growth and pull off the strip in the opposite direction of hair growth, pulling across the skin, not upward - a common mistake that most women make.
Another insider tip? "Put your hand on the skin right after removal," says Shupe, "it numbs the sensory nerves, resulting in less discomfort."
A little preventative maintenance will keep your skin in good condition and prepped for your next treatment.
Freshly waxed skin, while deliciously smooth, can be sensitive to products and sunlight so avoid potential irritants like lotions and rough fabrics in the days after you wax.
Exfoliate regularly to avoid ingrown hairs and keep skin smooth.
Credit: www.newscanada.com