Waxing Tips
Get your skin ready for this summer's hottest trends with these waxing tips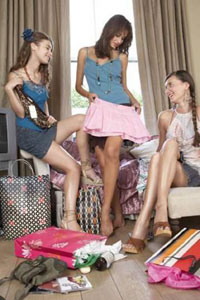 When it comes to this year's summer trends, skin is in. And that means women everywhere are getting ready to flash some skin in everything from the short-sleeve dress to the everyday short. Hair removal products will help women to confidently show bare arms and legs in their hottest summer threads.
For women who prefer waxing, ready-to-use wax strips are effective, simple to use and great for beginners or for travelling. This type of hair removal process removes hair from the root, allowing women to enjoy silky smooth skin for a longer time compared to shaving. Now women can sport their favourite summer styles every day without worrying about stubbly re-growth. Women will also find wax strips suitable for their own skin type.
"Veet Ready To Use Wax Strips are made with skin care ingredients for normal, dry and sensitive skin," says Kathleen Jackson, senior brand manager at Reckitt Benckiser, the makers of Veet Brand. "They also contain resin - a gentler ingredient commonly found in salon waxes - to remove hair as short as two millimeters."
For the fashionista who is always on the go, hair removal creams may be her thing. A very quick and easy process can get her ready in literally minutes. Especially with a revolutionary depilatory cream that won't wash off in the shower. It's pretty simple and saves a lot of time. Just step in to the shower with freshly creamed skin, wash the hair and body and, after the suggested time, simply remove the cream - and the unwanted hair - with a sponge.

More information on ready-to-use wax strips and in-shower hair removal creams is available online at www.veet.ca.
Credit: www.newscanada.com

-