Ylang-Ylang Oil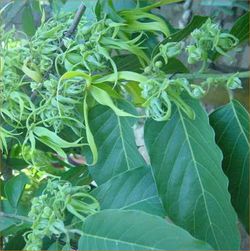 The fragrance of ylang-ylang essential oil is rich and deep with notes of rubber and custard, and bright with hints of jasmine and neroli. Making it One of the most masculine essential oils.
The ylang-ylang essential oil is used in aromatherapy. It is believed to relieve high blood pressure, normalize sebum secretion for skin problems.
Being antibacterial, antiseptic and anti-seborrheic. This oil will work as a skin care for blemished,dry, mature, normal-combination, oil-rich stressed skin, acne, broken capillaries, scars, seborrhea and varicose veins. Because it is bactericidal, ylang ylang also functions well as a deodorant.
According to Margaret Mead, it was used as such by South Pacific natives such as the Solomons where she did much of her research. The oil from ylang-ylang is widely used in perfumery for oriental or floral themed perfumes. Ylang-ylang blends well with most floral, fruit and wood smells.
The fresh blossoms of ylang-ylang have traditionally been used to infuse coconut oil with their heavy fragrance for skin care.
In Indonesia, ylang-ylang flowers are spread on the bed of newlywed couples. In the Philippines, its flowers, together with the flowers of the sampaguita, are strung into a necklace and worn by women and used to adorn religious images.
This cooling oil is calming, relaxing, sedative and a potent aphrodisiac. Ylang-ylang oil is used for aggression, anger, anxiety, depression, emotional and mental fatigue, hypertension, palpitations, panic, sensuality, shyness, stress and tension.
For your skin care of your mood this is a must have oil.......

-