At Home Manicure Tips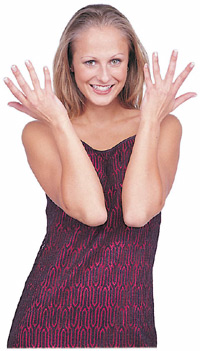 Make a Splash this Summer with a Marvelous Manicure
You will look good with this Manicure. If you would like to leave the Mary Kay products you use and why, I will post them at the bottom of this page. Start a mini Blog !!!
Have your hands had enough of the harsh winter weather? Give summer a high five with an at-home manicure that will add a little sizzle to your look this season. Just follow these 10 simple steps to help you make your manicure simply stunning.
10 Steps To A Great Manicure:
1) Remove old nail enamel with an acetone-free remover. To remove all residue, fully saturate a cotton pad with nail enamel remover and place on nail for up to one minute before wiping off.
2) Shape nails using fingernail clippers and nail file before nails are softened by soaking. This season, the trend is a short, square-shaped nail. File in one direction on only the top and corners of each nail. Filing along the sides of the nail will weaken it.
3) Soak nails in warm, soapy water for three to five minutes to soften cuticles.
4) Gently push back cuticles with a cuticle pusher.
5) Trim hangnails with cuticle/nail scissors and/or tweezers - wash hands. Do not cut cuticles, as this may damage the nail.
6) For maximum moisturization, massage hands with hand cream, like Mary Kay Private Spa Collection Satin Hands Hand Cream.
7) Wipe nails once with nail enamel remover to remove oily residue.
8) Apply a base coat over nail and across tip. Let dry to the touch.
9) Apply two thin coats of your favourite nail enamel. For best dry time, do not flood with colour.
10) Apply a top coat over nail and across tip to protect the ends from chipping.
Mary Kay product is available exclusively through Mary Kay Independent Beauty Consultants. To locate an Independent Beauty Consultant near you, visit the Mary Kay Cosmetics Ltd. Web site at www.marykay.ca or call 1-866-455-5454.
-News Canada
Photo courtesy of Metro Creative Graphics