Hairstyles go Big this Season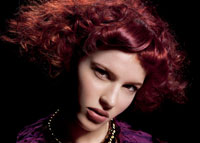 Hairstyles go big this season and I will be looking for some videos that will help you get this look.
Schwarzkopf Professionals Essential Looks 2:2007, Modern Life Collection
Caution, subtlety and shyness are thrown aside this season to make room for a big new hair trend. Big, blown out styles will be one of the sexiest looks for women, coaxing a more playful and confident demeanour from past season's subtle femininity.
A few A-list celebrities have already previewed the look in their music videos or on the red carpet. Beyonce Knowles has turned to large voluminous locks for several videos as have Jessica Simpson, and Shakira.
"It's a revival of 70s glamour," says Kathy Simon, company ambassador for Schwarzkopf Professional Canadian essential looks. "Some of the clothing we saw on the runway, like that from Dolce and Gabbana, was reminiscent of this strong trend."
Simon agrees big hair exudes confidence and sexiness in a woman. She also says it is a lot of fun too. "Like 70s clothing, hair is very glitzy, glamorous and indicative of the girls who went to all the parties. To see big hair come back makes a lot of sense."
Big hair can range from large loose curls, to tighter curls, to big blown out locks with lots of volume at the root. Mousse and hairspray are key tools to achieving this trend. A few sprays at the root will last until the martini glass is empty.
Credit: www.newscanada.com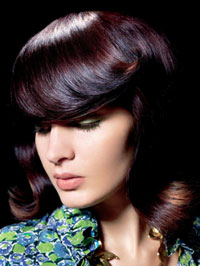 Tips & Trends: How to achieve big hair
Schwarzkopf Professionals Essential Looks 2:2007, Modern Life Collection
This season's hottest hair trend is big. That is, big, blown out curls.
Achieving this trend takes a little time, a little effort, and a lot of product. Kathy Simon, Schwarzkopf Professional Canadian Essential Looks ambassador, says there are five steps to bolder hairstyles.
1. Apply a volumizing base product to wet hair. A mousse like Professional OSiS Volume Shot by Schwarzkopf will do the trick.
2. Use a large barrel round brush to blow dry hair, only instead of letting the section of hair drop, re-curl and pin it up with a bobby pin. Continue this step until all sections of the hair are curled and pinned.
3. Spray a flexible hairspray all around to set the hair. Then, take some time to allow hair to cool off. Have breakfast, put on your makeup or get dressed.
4. Next, remove all the bobby pins, flip your hair upside down and give it a gentle shake.
5. Finally, flip your hair back up and begin to style with your fingers and some hairspray.
To give the style an extra kick of glamour, you can choose to finish the look with a shine spray, like OSiS Sparkler instead of the usual hairspray. Also, Simon suggests, if you have hot rollers, you can use these instead of the round brush and bobby pins.
"Big hair is a key trend on the runway this season," says Simon. "We feel it will also be a big hit on the streets."
Credit: www.newscanada.com
Natural Hair Care
-
Hairstyles
-