Herbal Hair Tea Kit
Preparing the perfect Hair Tea
First select your hair tea cup, you will need a cup that will hold two cups or so.
Take your tea ball apart and use the half without the chain to scoop out your hair tea from the jar, fill the whole tea ball half with the loose tea.
Place the other half onto the tea ball and brew in one cup of hot water for 10 minutes.
Carefully add the brewed tea to the hair tea cup and add enough cool water to make a warm rinse.
Apply the hair tea as a conditioning rinse after shampooing and rinsing your hair. Let it flow through your hair from roots to ends gently massaging your scalp for added stimulation. You may rinse you hair with clear water after using the hair tea, but it is not necessary.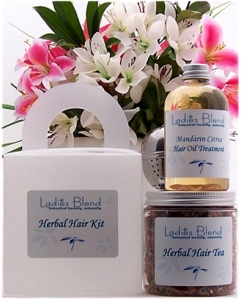 Herbal Hair Tea Kit
Mandarin Citrus Hair Oil
This Hair Tea Kit includes a silver, reusable tea ball and an eight ounce jar (enough for approximately 16 applications) of fresh mixed herbs selected to treat you to a wonderful conditioning rinse that encourages healthy hair growth. Preparing a hair tea is quite simple, please click here to read a Tutorial for preparing the perfect Hair Tea, a detailed instruction card is included in your kit as well.
Also included in your kit is our Mandarin Citrus Hair Oil which includes the following nourishing therapeutic oils, combined with essential oils, formulated to help restore, hydrate and revive your hair:
Avocado Oil employs high amounts of Vitamin A, B1, B2, B5, D, and E. It is highly therapeutic, lending healing and regenerating properties and offers minerals, protein, lecithin and fatty acids.
Jojoba Oil is a highly penetrating oil (wax) that closely resembles our own natural sebum, a superb scalp cleanser.
Raw crushed Grapeseed Oil light and non-greasy, yet highly moisturizing and absorbing, suitable for those with skin sensitivities due to its non-allergenic properties.
Cherry Kernel Oil is an emollient oil, high in oleic acid, vitamin A and natural Tocopherols.
Vitamin E is well known for its antioxidant properties; it repairs, heals and protects.
To use: shake well and apply the hair oil to combed dry hair, gently massaging your scalp and working through all of your hair from root to tip. Leave the oil on for approximately 15-20 minutes, follow with a gentle shampoo, rinse well. Apply the hair tea as a rinse after shampooing and rinsing your hair.
Herbal Hair Tea Kit Ingredients:
Hair Tea: Organic & Fair Trade Matricaria recutita (Chamomile) flower, Organic Rosmarinus officinalis (Rosemary) Leaf, Rosa centifolia (Red Rose) Petals & Buds-cultivated without chemicals, Organic Cymbopogon citratus (Lemongrass), Organic Urtica Dioica (Stinging Nettles) Leaf.
Hair Oil: Cold Pressed Prunus Avium (Cherry) Kernel Oil, Cold Expeller Pressed Simmondsia chinensis (Jojoba) Seed Oil, Raw Crushed & Cold Expeller Pressed Vitis vinifera (Grapeseed) Oil, Cold Pressed Persea gratissima (Virgin Avacado) Oil, Citrus reticulata (Mandarin) Oil, Citrus aurantifolia (Lime) Oil, Citrus sinensis (Sweet Orange) Oil.
Formulated with Natural and Certified Organic Ingredients
Vegan Friendly - No Animal Testing - Please Recycle