Eye Care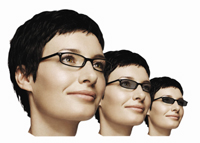 This section will lead you to eye care and the Sun.
Fun in the sun can damage more than just skin
Summer - you know you've been looking forward to it. After a long Canadian winter, relaxing warm breezes and sunny days will inspire you to peel off the layers, get outside and make the most of the warmer weather. And for maximum enjoyment at the cottage, the beach or on the annual family camping trip, you should always remember to pack the necessary tools to protect everyone from the sun's harmful ultraviolet (UV) rays. Don't forget to pack sunscreen and make sure you have hats for each family member.
Family fun in the sun can damage more than just your skin.
According to a recent survey, 92 percent of Canadians know that extended exposure to the sun causes skin cancer, but only nine percent of Canadians are aware of the harmful effects that prolonged UV exposure can have on the eyes.
"Rain or shine, our eyes are bombarded by UV radiation from the sun and most of the time we don't even know it," says Wael Yassein, optician at The Eye Shoppe in Oshawa, Ontario. "Just as it's important to protect our skin, we need to be equally vigilant and protect our eyes from harmful UV rays, which can be extremely damaging over time."
Research indicates that damage from the sun's harmful rays is cumulative over time and may contribute to serious age-related eye diseases including cataracts and macular degeneration, which is the leading cause of blindness in people over the age of 60.
However, there are steps Canadians can take to protect the health of their eyes and the sensitive skin around the eye, while making the most of their time in the sun. By wearing 100 percent UV blocking lenses, Canadians can protect their vision and still enjoy the outdoors. Canadians can also take their protection one step further by speaking with their eyecare professional about photochromic lenses.
Photochromic lenses automatically change from clear to dark in the presence of UV rays, so the more UV light that is present the darker the lenses get. Transitions lenses, the number one brand of photochromic lenses recommended by eyecare professionals worldwide, block 100 percent of the sun's harmful rays and also reduce painful, discomforting glare, providing convenient protection and helping to maintain long-term eye health.
So whether your summers are spent by the lake or by the pool, whether it's the longest day of the year or the shortest, protecting your eyes from UV radiation is an important part of sun safety. And, even though your vision may be clear, regular eye exams can detect changes in the eye caused by underlying health problems. Making yearly eye exams part of your family's regular health routine will help ensure healthy sight for years to come.
More tips about healthy sight are available online at www.transitions.com.
Credit: www.newscanada.com