Wax Strips
                         Wax Strips are Ideal for First Timers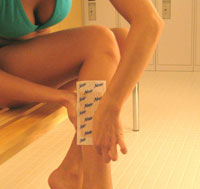 Choosing a hair removal option is a serious consideration particularly for younger women. Many people don't realize that skin sensitivity is highest with younger consumers and that it decreases with age. Options like regular shaving, some cream depilatories and waxing can be harsh on the skin leaving rashes and irritations. The challenge for younger women is finding an effective hair removal method that is gentle on the skin.

Products like the new Nair Pretty Wax Strips continue to provide safe, effective options for young women new to hair removal. Wax strips remove unwanted hair while remaining kind to the skin. There's no need to suffer painful nicks or cuts and skin is smoother and hair-free for weeks longer. Created based on input from young women, hair removal strips are quick and effortless to use:
. No heating required, just warm wax strips by massaging between your hands.
. Re-usable, so you can use them over and over again.
. Large strips are suitable for legs and body, while small and medium strips are suitable for facial and other delicate areas such as bikini.

. Safe for sensitive skin, hair grows back softer and finer than with other hair removal methods.
. Face and bikini (medium and small strips) strips range in price from $8.99 - $9.99.
Credit: www.newscanada.com