Von Natur Makeup Review
These two Von Natur mineral makeup reviews come from PJ who hosts
This Makeup, skincare, fragrance, and a bit of fashion...Blog is a must READ....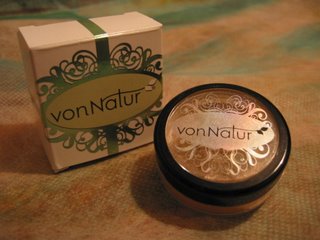 Mineral Makeup Focus: von Natur (1)
There has been a lot of hype in mineral makeup in the UK at the moment. When I came across a big beauty feature on mineral makeup on Grazia magazine (it is like US and Allure combined) last week, it's as if the mineral madness has really started to take shape here.
This major media coverage coincides with my first trial of mineral makeup, with products from von Natur. It is an organic cosmetics brand, and they just launched a collection of mineral makeup.
I have heard a lot about mineral makeup before and how it is compared with non-mineral makeup, so I am particularly interested in how their mineral makeup products figure in the whole spectrum of comments. Today I will talk about their mineral Powder Foundation (and I'll review some of their other mineral makeup products in my next post).
Overall, the Powder Foundation lives up to the kind of hype among mineral makeup lovers:
1. It offers great coverage and it doesn't feel heavy, which I love. The coverage is medium at the very least and can be built up much fuller. It can even double as a concealer with the right brush.
2. It doesn't irritate my sensitive skin, since the foundation is simply made of crushed mineral powder that is not absorbed by the skin.
3. The staying power is quite good. It stays on for the whole day with minimal fading. Also, the color stays nice and fresh and doesn't darken on my oily skin.
4. The main ingredients of the foundation, titanium dioxide and zinc oxide (the typical ingredients in mineral makeup), are both ingredients to protect the skin from UVA. They give the foundation a very beneficial skincare property.
But there are some downsides as well:
1. Even with some practice, the application takes a bit of time. For the 2-way powder foundation that I usually use, it takes about 5 minutes to do the whole face. For the mineral powder foundation, it takes at least 15 minutes. It takes a lot of gradual layering and buffing to get an even coverage for the whole face.
2. The powder has a great deal of shimmer, which doesn't go very well with my oily skin. (I sometimes layer a matte loose powder to reduce the shine.) I hope they will bring out a matte version, which I am sure I'll like better. (But, on the other hand, for people who want that glowing luminosity, this can probably be a good choice.)
3. The loose powder is not the most convenient thing to travel with. A pressed form will be much better in this case.
Despite the downsides, it is a good foundation, simply because of the good coverage and staying power. It is a relatively new collection and hopefully they will bring out different formulations. Maybe a matte pressed powder? Then it will be everything I want from a mineral foundation.
In my next post, I'll talk about some other von Natur mineral makeup products that I tried, which include eyeshadows, blusher, and bronzing powder.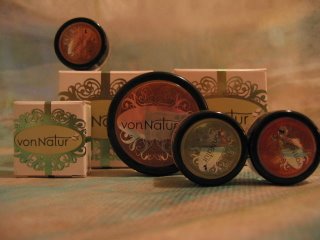 Today I'll talk about some other von Natur's mineral makeup products.
Their eyeshadows are what I really like. They have the same advantages as their mineral foundation I talked about last time (good staying power, good for sensitive skin, proper anti-UVA ingredients), while some of the drawbacks of the mineral foundation are not really an issue here. Even in the loose-powder form, the application is hassle-free. Also, the shimmer which does not appeal to me in the foundation turns out to be a plus in the eyeshadows.
Overall the texture of the eyeshadows is light and smooth. My favorite colors are Pyrope (deep purple), Ruby (warm pink), and Chrysocolla (minty green).
The blusher I got (in Dawn) is a nice neutral pink. It can be slightly too iridescent for daytime wear, but the color itself is wearable and flattering for most skin-tones.
The Face & Body Shimmer is a very shimmery bronzing powder. Considering it is a bronzer, there are many colors to choose from, and the one I have (Sun Worshiper) is great for medium skin-tones.
Personally I think their color cosmetics items fare better than the powder foundation, simply because of the easy application and the shimmer not being a problem for me. Also there are good ranges of colors for the eyeshadows, bronzers, and blushers.
After trying these mineral makeup products for the first time, I can definitely see the appeal and buzz about "going mineral". As heavyweights like Neutrogena, L'Oreal, MAC, and Laura Mercier are launching their mineral makeup products, it does seem that a new era is coming.