Skin Cancer Info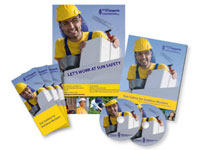 For Skin Cancer information I went by the Canadian Dermatology Association's website and it is a large site. I have not yet got to read the whole thing. If you find information we should have here let me know.....
New program to help reduce outdoor workers' risk of skin cancer
The Canadian Dermatology Association's Sun Safety for Outdoor Workers program includes a 50-page manual, DVD, poster and brochure. Employers and outdoor workers are the target of a new skin cancer prevention program now being launched by the Canadian Dermatology Association.
"Outdoor workers have a higher risk for developing skin cancer because they are regularly exposed to the sun for long periods of time," according to Dr. Cheryl Rosen, director of the association's National Sun Awareness Program. "This is a much needed cancer prevention program that we hope many organizations with outdoor workers will get involved with."
Resources developed for the Sun Safety for Outdoor Workers program include a 50-page manual for human resources staff and others involved in worker health and safety, posters, a 10-minute DVD, as well as fact sheets and brochures.
Items are available in English and French and are packaged together or separately. Further information is available online at
Canadian Dermatology Association

Sun facts and myths
I don't need to protect myself from the sun on a cloudy day in spring or summer
Myth. Yes, you need sun protection because up to 90% of the sun's ultraviolet (UV) radiation passes through light cloud cover.
A tan protects my skin from the sun.
Myth. A tan does not really provide much protection from the sun and is equal to a sun protection factor (SPF or protection against sunburn) of between 2 and 4.
Credit: www.newscanada.com
Skin Cancer Main Section
Top of Page