Mens Skin Care Tips and Hair Care
Well it is about time for Mens Skin Care Tips!!! I know we are the last to get into taking care of ourselves. And the most important part, when you do learn all this new information do not tell your girl... she already knows....
Wayne'r is going to start with tips on shaving. I will be looking for articles on shaving like the ones on this page from News Canada. From here I will look in to information on our hair. It seems that if we are looking into the mirror we are looking good from head to toe. Although as I get older more and more things seem to be Going On. And Not Good. Now I'm not in this alone so if you come into some good information do not keep it to your self. Send it in so I can post your mens skin care tips for the rest of us!!!!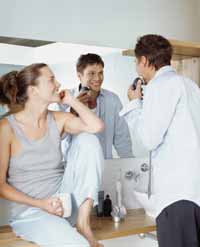 Consumer Tip: Shopping and shaving
Advanced technology in electric shavers is providing men with a real alternative to soap, water and blades - without sacrificing closeness. The latest and greatest shavers are cordless, compact, battery operated, and fully portable. Industry specialists tell us to be sure to ask for the most advanced features before we buy. Here's little more information on that, courtesy of Philips Electronics:
. Get a good feeling. The shaver should feel comfortable in your hand, and shouldn't be annoyingly noisy or vibrate too much.

. Try it. It takes 30 days for your face to adjust to a new shaver. Only after this initial adjustment period can you determine if the shaver is the right one for you. For that reason, look for a money-back guarantee ranging from 30 to 60 days.
. Buy the features that count. Instead of an inexpensive generic model, purchase a quality brand with fewer bells and whistles. With shavers you really get what you pay for and most of the better lines give you both high-end and less expensive models. Pay attention to the shaving head. You get three shaving rings per shaving head with the Philips SmartTouch-XL for example - and that gives you up to a 50 percent increase in shaving surface.
. Lots of energy. Buy a model with a quick-charge option and a long charge life. It doesn't matter how many fancy features a shaver has if it quits before you finish the job.
- News Canada
Here is another mens skin care tips on shaving from News canada.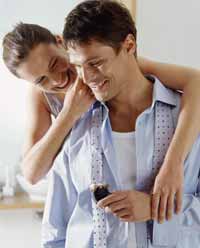 Electric shavers - and epilators - are making a comeback
When unsightly, unwanted hair first makes its appearance, removing it can't wait.
Perhaps that's why battery-operated, electric shavers, groomers, and epilators are making a comeback.
It's so liberating for example, when hair removal does not require the fuss of soap and water. With electric shavers, you can clean hair away instantly in the car, at the office, or in any restroom before a night out.
"New technology means electric shaving is closer and better than ever and this is happening at a time when the demand for portability - the ability to shave at virtually any time or place - is higher than ever because of such a busy pace in life," says James Savage at Philips Electronics. "As a result, manufacturers like us are upping the ante: The electric shaver is now much more advanced - and so is the epilator, a device that delivers longer-lasting smoothness without the expense of lasers, or the mess of wax."

Epilators are in
When women remove hair they want it gone for as long as possible, and now the most innovative epilator systems use "cool" technologies to pluck hair deep from the roots, pain-free.
"The Philips Satinelle Ice epilator, for example, has a unique integrated skin cooler that gently numbs your skin just before hairs are removed," Savage explained. "The special pivoting cooling head ensures maximum skin contact at all times and soothes it immediately afterwards, even on curves. Better still, the newest Satinelle Ice technology (www.philips.ca) includes an integrated massage system on the skin promoting even more comfort."
Freedom for men
Why not ditch the need for soap and water and consider the newest developments in electric shavers?
"Most shavers are cordless today, with built in battery chargers for much greater convenience," Savage said. "If you shave with the Philips SmartTouch-XL for example, the entire shaving head pivots and tilts while air-filled cushions provide suspension and hug it closer to the contours of your face. But the Philips technology takes it one step further: SmartTouch-XL is designed with a ground-breaking, three rings per shaving head - and that gives you a 50 percent increase in the shaving surface. As a result, you are always in control and the easy-to-read digital panel gives you all the information you need."
- News Canada
Men Skin Care: A Growing Trend
From Paolo Basauri
Mens Skin Care Tips is a topic that everyday is more and more usual in guys conversations. We have arrived to a time where men feel comfortable expressing their needs of looking good and feeling good and where they can express it freely without any kind of shame. And guess what? It seems men skin care is here to stay.
Who hasn't heard of the term metrosexual? It appeared on media all over the world some years ago to describe men who care about how they look. But why give a name to something that has always existed? If women can take care of themselves why shouldn't we? After all skin care is more than just cosmetic, it has a positive impact on our health as well. I bet the term metrosexual will disappear in the next few years, as personal grooming will become an important part of men's lives, not only to get women, but also to impress at jobs.
Men skin care tips include different areas, and also brings up different questions. It begins by getting to know your skin type. Even the color of your skin determines your approach to men skin care; black people and white people have their own issues when it comes to men skin care. For example the black skin is prone to produce ingrown hair, razor bumps and hyperpigmentation; thus different products are needed to take care of it. Once you know your specific skin type, it works as a building point for skin care.
Men skin care tips is something you should definitely consider if you want to feel better about yourself. Take advantage of the years you live in. As you will experience, taking care of your skin will bring you many benefits, being the best of them a truly healthy skin. Men skin care is a growing trend that is taking the world by storm, and taking men around the world to a better life.
Paolo Basauri, is an expert author who writes for Men Skin Care Tips A site specialized in men skin care information & tips.
Article Source: https://EzineArticles.com
Here are the articles that I have found so far on Men's Skin Care Tips.
This article on mens skin care comes from Hannah at Skin Actives. They have a whole line for men and will help men make their own skin care products.
Back hair removal for men is an increasingly popular hair removal option for guys with excessive unwanted hair. When it comes to male back hair....
Shaving rash is a common problem in men with curly hair, where after shaving a remnant of hair remains in the hair follicle. Growing hair may immediately curve back into the surrounding skin, thereby causing a skin irritation. With your next shave you will nick these skin irritation lumps, worsening inflammation and possibly initiate infection.
Dry Skin Solution for Men
These two Men's Skin care Tips are By Dr. Jo Turner
Men and women have different skin but how can we differentiate between them? Men do not spend much money on cosmetics, facial wash but shave more than women. There are more products for women but there are some for men. However, the publicity of skin care products for men is insignificant compared to women's. I'm trying too find more tips like these to help.
Many men make the mistake of thinking that they do not have to look after their skin. Here is how to change all of that to look your best.
For men's skin care tips this article on ingrown hair will lead you to the information on what it looks like and how you can deal with it. Make sure you check out the links.
Razor bumps itch, burn, can cause scarring, and make shaving virtually impossible. Many Black men have resorted to depilatory creams which seem to work a great deal better than blades. But, some depilatories, if not used correctly, may irritate the skin.
                                Man skin Care Tips for Products
Here is another Paolo Basauri article.
Nowadays, men are increasingly taking care of their skin. We have come to realize this is not just about looking good, it's primarily about health. But realizing this, is just the first step, then the second step becomes a little bit harder. It's then, when ask the question: What man skin care products should I use?
Also if you are looking for a mens skin care tips and I do not have it leave a note and I will look for it for you. Below is a site that has men's skin care products.
Tips & Trends: Hairstyles are Blurring the Sexes Schwarzkopf Professionals Essential Looks 2:2007, Modern Life Collection
With men's hairstyles reaching to longer lengths and women's styles cropping up much shorter, the line separating a man's look and a woman's look is nearly indistinguishable this season.

Amazon shop now