Manuka Honey for Eczema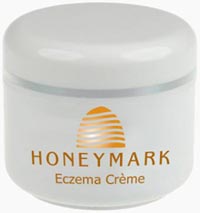 Here is a Manuka Honey product from Honeymark
Honeymark's Eczema Creme is a maximum strength cream that when applied to affected areas of the skin helps relieve symptoms associated with Eczema, minor skin irritations, itching and rashes. Additional uses of this cream can be for Seborrheic Dermatitis, Poison Ivy, Poison Oak, Poison Sumac, Psoriasis and insect bites.


How to use:
Apply a generous amount of Honeymark's Eczema Creme to affected areas 3-4 times daily to help control itching and reduce the formation of scaling on the skin.


For Best Results:
Apply to clean skin and reapply after washing. We recommend using fragrance free or hypoallergenic cleansers.
Active Ingredient:
Manuka Honey
Inert:
And a Short Definition
Deinoinized water:

Water that has been filtered and treated to remove metallic ions, kill microorganisms, and remove impurities.
Polawax:

A vegetable-derived, nonionic self-emulsifying & stabilizing agent.
Cetyl alcohol:

Not an "alcohol" in the sense of a rubbing alcohol, etc. It's actual used as an emollient & emulsifier, derived from coconut oil or may be synthetically produced.
Stearyl alcohol:

An alcohol often used in creams to soften and smooth the skin.
Glyeryl stearate:

Emulsifying and spreading agent
Cyclomethicone:

A cyclic dimethyl polysiloxane. Skin conditioning agent and emollient. Confers an incredibly soft, silky feel to the skin, evaporates quickly leaving little residue on the skin.
Propylene Glycol:

Ideally from vegetable glycerine & grain alcohol. In general cosmetics, most used are of synthetic nature. Avoid any formula exceeding 5% of usage.
Methyl paraben:

Water-soluble anti-microbial agent. One of the most commonly used preservative in cosmetics today.
Hydrocortisone:

A hormone produced by the adrenal glands.
Propyl paraben:

A preservative derived from PABA that is widely used in cosmetics. Its fungicidal and antibacterial abilities help prevent yeast and mold. Nontoxic and nonirritating at .05 of 1 percent.
Imidazolidinyl urea

A preservative that may be derived from either methanol (wood alcohol1 or allantoin. Kills harmful microorganisms. It is nonirritating, nontoxic, and not a formaldehyde donor
Triethnolamine:

Produced by ammonolysis of ethylene oxide. Neutralizes carbomer solutions to form gels. Neutralizes stearic acid to form anionic emulsions and acts as an alkalizing agent to control pH.
Citric acid:

Vitamin C, derived from citrus fruit. It is used commonly in hair and skincare products and many post perm ingredients to neutralize odor. Has astringent and antioxidant properties and also can be used as a stabilizer and preservative.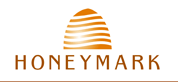 Honeymark Lotion
Manuka Honey Information
Eczema Main Section
Top of Manuka Honey for Eczema Page
Amazon shop now