Broadway Makeup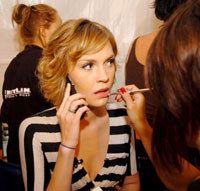 Cosmetic Solutions Broadway makeup is now made for you
Anyone who's ever seen an actress fresh off the stage will know that professional make-up tends to look heavy for real life situations. From caked foundation, strong eye shadow and eyeliner - what looks good in the theatre and on film can seem overdone in real life.
But this kind of make-up does have one big advantage and that is its ability to remain in place. From time to time, every woman needs a makeup that can withstand an intense situation. Staying power, therefore, is a huge selling point when it comes to cosmetics and the beauty houses know it.
"We have reformulated some of our classic stage make-up into a retail range for all women," says Dominic Cruz, national make-up artist for Kryolan, a leading name in Hollywood and on Broadway. Kryolan (kryolan.com) has supplied make-up to film companies and theatres for more than 30 years in many parts of the world.
"One of our best sellers with actors and dancers is Dermacolor Light, a user-friendly version of the long-lasting camouflage in the Dermacolor line," Ms. Cruz explained. "It is ideal for real life situations since it's as heat- sweat- and shine-proof as its forerunner, but also looks subtle, sheer and natural."
The products come in stylish silver packaging and every makeup component from face powder and lipstick to foundation is included, all in a number of skin-tones.
Amazon shop now
"It's the oil in make-up that makes it slip off," Ms. Cruz said. "Most of the products in our line are formulated in such a way that moisture remains locked in the ingredients. We also use higher pigments than any other brand for better coverage - and it's easily removed with an oil-based cleanser."
Credit: www.newscanada.com