Hairstyles
Tips & Trends: Hairstyles are Blurring the Sexes
Schwarzkopf Professionals Essential Looks 2:2007, Modern Life Collection
With men's hairstyles reaching to longer lengths and women's styles cropping up much shorter, the line separating a man's look and a woman's look is nearly indistinguishable this season.
Celebrities Victoria and David Beckham's styles are beginning to resemble one another, as do Katie Holmes and Tom Cruise thanks to Holmes' chic new cropped bob. Even sexy starlet Rhinna traded in her long locks for a shorter style.
Kathy Simon, company ambassador for Schwarzkopf Professional Canadian essential looks, says the "androgynous look" came out strong in their collection this year. "We saw a lot of designers forecasting strong suits, very tailored, almost military, and barely feminizing them at all. Shoes were flat and makeup barely there. Most of the models on the runway were wearing their hair slicked back and really strong."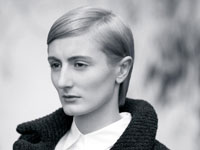 According to Simon this look is not for the indecisive or meek, it takes a woman who feels very comfortable with her femininity, a look that needs to be carried with confidence.
Steve Hogan, the creative director for Schwarzkopf worldwide, felt so strongly about this trend he made it part of the manufacturer's top trends of the season. "It illustrates that while allure can be manly it doesn't need to be masculine," he explains. "Hair is a sculpted mix of button down school boy polish with clean finishes and length with strong broken outlines cut super short through the crown. There are face-framing styles that accentuate bone structure and mid length looks with choppy textures or glossy finishes."
"The cuts are pretty bold, but they have softness to them," adds Simon. "There's a side part, and a fringe that can be swept over." Colour is also very soft. Blonde hues are warmer and dark tones are brightened with shots of gold.
If one likes the style of a stronger look, but is not ready to face the scissors, Simon says there are ways to achieve this androgynous trend in subtler ways.
"If you don't want to cut your hair, slick it back in a ponytail instead and low at the nape, with a very shiny, glossy finish. You can also take the ponytail and wrap it in a bun," she says.
"The look is about strength, not length. It's a strong confidence in oneself."
Credit: www.newscanada.com
Here are two more Sections with Hair Information on Hairstyles and Homemade Hair recipes.
Natural Hair Care
-
Homemade Hair Recipes
-
Hairstyles
-
Amazon shop now