Articles on Eczema Treatments
Showering and bathing can help avoid eczema flare-ups: Time in the tub can relieve eczema dryness.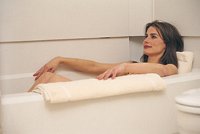 Fact: Eczema is a condition causing dry, irritated, sensitive skin, and conventional wisdom has been that the less exposure the skin has to water, the better. While long baths or showers in hot water can certainly dry out the skin, bathing at least once a day for about 10 minutes in lukewarm water is actually a very effective way of hydrating the skin.

This holds true for both warmer and colder months of the year. Be sure, however, to avoid using harsh soaps which can cause skin irritation, and make sure to lock in that moisture by using a rich emollient immediately after bathing or showering.
Ask your doctor or pharmacist to recommend a non-irritating soap for sensitive skin, as well as a good-quality moisturizer and apply it liberally following your bath or shower. By following these simple steps, you will be better able to control the dry itchy skin of eczema and keep your skin moist and hydrated. Your skin will thank you!

Tips on Eczema
One of the Biggest Triggers is Dry Skin
Moisturize as soon as you step out of the shower. With a product that has shea butter or one of the other butters. A cream or ointment also work well, rather than a lotion. You want the extra moisturizing.
Step 1: Use lukewarm water. Using excessively hot water can strip away the skin's essential oils, leaving skin dry and chapped.
Step 2: Add a capful of emulsifying oil to your bath. Emulsifying bath oil is helpful in aiding moisture retention. Ask your doctor or pharmacist to recommend a suitable product for you.
Step 3: Use a mild, fragrance-free, non-drying soap or soap substitute. Avoid exposure to harsh soaps, and other drying agents, such as powders.
Step 3: Gently dry off. Use a soft towel, and lightly pat away excess water - don't rub.
Step 4: Moisturize immediately. Apply a fragrance-free moisturizer within 3 minutes of bathing to effectively seal in the moisture.
For more tips on how to avoid or manage flare-ups caused by eczema, visit www.eczemacanada.ca, the official site of the Eczema Awareness, Support and Education (EASE) Program.
- News Canada Photo courtesy of Metro Creative Graphics

At this time I'm looking for information on
Dead Sea Minerals, Salt and Mud
Panorama of the Dead Sea from the Mövenpick Resort, Jordan

I got an email from Boaz Ben Zeev who is the On-Line Manager for Kianomer. Kianomer although new to having their own line of skin care has been working with skin care companys for years and is in partnership with the manufacturing company Mezada Minerals. Mezada is the actual company that is harvesting the minerals from the Dead Sea.

In reading the dead sea salts a realy good for eczema and psoriasis so if you are using these salts for these skin conditions let me know how often and how you are using them.
Eczema and milk
Drinking Raw Milk
I read through the page on eczema. My daughter's eczema was cured when we bought a cow. Now she is drinking raw milk and has no problem.

Another girl near us is the same way. As long as she has raw cow's milk, she has no eczema. I don't know if it is the processing, or perhaps antibiotics or hormones in the milk, but it does make all the difference. We went back and forth a few times, and we are sure that is what it is. And if it affects her that way, what is store bought milk doing to us, even though we can't see it?

Donna
I found this video on eczema that is worth your time.
Reduce the irritation of eczema by knowing what triggers your dry, itchy skin and keeping moisturized with medicated creams and lotions.

Many sufferers can become very frustrated; therefore, it is important to seek help and support in managing and controlling the condition.
Homemade Recipes for Eczema From Gloria
Eczema Treatment with Homemade Oatmeal Recipes Brings Relief
By: Gloria MacTaggart
You've probably noticed skin care products containing oatmeal on the shelves and, odd as it may seem, oatmeal is one of the best dry skin and eczema treatments around. However, the commercial products available usually contain other ingredients that make them less than desirable. The good news is that there are a number of oatmeal-based skin care products you can make at home. When followed with the application of a good shielding lotion for all-day dry skin and eczema treatment, these oatmeal recipes will give eczema sufferers the relief they need.
How do you use oatmeal for skin care? It can be put into the bath, used as a cleanser, or as a masque.
For a soothing bath, process the oatmeal in a blender until it is a very fine powder. To find out if it is fine enough, mix a tablespoon into a glass of water. If it is absorbed into the water with no clumps, you've got it right. Sprinkle the oatmeal under running water as the bath fills, mixing it in with your hands. Soak for 15 - 30 minutes.
Adding honey to oatmeal is perfect for cleansing the face and hands or anywhere on the body where you have an eczema flare. As honey is also anti-bacterial, it is doubly beneficial. Simply mix equal parts honey and oatmeal and apply. You can rinse off immediately, or lie back and relax for half an hour and let it work its magic.
Oatmeal mixed with egg whites is an excellent exfoliating masque. Mix them together, smooth onto the face and rinse off only after the egg whites have thoroughly dried. The oatmeal provides the soothing eczema treatment and the egg whites leave the skin soft and smooth.

Obviously, you can't leave these on all day - which is why you need a shielding lotion. As most eczema is caused by exposure to harsh chemicals, it is vital to keep the skin protected at all times. A good shiel ding lotion is the latest natural dry skin and eczema treatment and is now recommended by thousands of doctors. The oatmeal will provide relief and the shielding lotion will protect you from further irritation.
About the author: Author, Gloria MacTaggart, is a freelance writer who contributes articles on skin care for Gloves In A Bottle, Inc. For more information, visit http://www.glovesinabottle.com.
Scalp Eczema is a condition which affects many many people, yet a good percentage of them won't even know they have it. The symptoms can be hard to spot at first, as they can manifest themselves as a lot of other conditions. In some people it can be no worse than mild dandruff, but in others in can causes blistering of the scalp and even hair loss. We've developed a few quick tips to help you get the best of it.
Glycerin Soothes Eczema Symptoms
Many people with eczema find glycerin can be helpful in treating the symptoms. Glycerin is an emollient, an ingredient that helps to balance or maintain moisture levels. It is commonly derived from oils or created as a by-product of soap. here is some more info on glycerin and eczema.
A review of clothing materials and their effect on eczematous skin. The author is a doctor with many years experience within the area of dermatology.
Here is a Manuka Honey product from Honeymark
Honeymark's Eczema Creme is a maximum strength cream that when applied to affected areas of the skin helps relieve symptoms associated with Eczema and........
When it is Time to Try Something New
For those struggling with the disease, it can be difficult to know when you've hit a "rough patch" that will pass, or when it's time to consider switching to a new or different treatment regimen.
Eczema is not a single condition or disease of the skin. It has different characteristics, causes, and treatments.
These 3 natural eczema treatments are simple and the use of vitamins Zinc and Vitamin E in your skin care products are good tips for your own homemade skin care preoducts.
Rainforest Medicines for Eczema
Twenty years ago, pharmaceutical manufacturers did not research plants as a source of medicines. Today, over 100 pharmaceutical companies are engaged in such research, and plant sources have become a mainstay in Western medicine. One of the most fruitful sources has been the rainforests
A Primer On Eczema
Eczema is one of the very rampant skin diseases that affect people all over the world who are allergic to certain skin allergens.
Atopic dermatitis is a skin disease which in some countries is also known as "eczema." The ailment is one of the many forms of dermatitis or skin disease. Read on........
Here are a few important facts for teachers and parents to help children better cope with the disease and its consequences.
For an eczema treatment Daichi is a strong beleaver in Vitamin E With a web site Total Herbal for more information on how to naturally treat Eczema.
Eczema is such a common ailment among today's children that nation wide between 10-20% of all children experience some degree of atopic eczema. This is a Wayne'r Thumbs Up Article!
Dr Miriam Weinstein MD FRCPC
Do not to let their guard down with eczema.
Dr Miriam Weinstein MD FRCPC is a Pediatrician Dermatologist at the Hospital for Sick Children, Division of Pediatric Medicine, Toronto. (NC)-Atopic dermatitis (eczema) is a chronic condition that doesn't "take a break" as the weather warms up.