From itch to 'ahhh' Understanding and treating chronic dry skin associated with eczema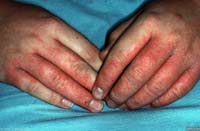 News Canada article on Eczema
While everyone suffers from occasional dry skin, for some it is a chronic - and more severe - problem related to a skin condition called atopic dermatitis, more commonly known as eczema.
Eczema sufferers experience patches of dry, itchy, red and swollen skin most frequently found on the scalp and face of babies, or behind the knee folds, wrists, ankles, hands, feet and neck area on adults. An estimated 1-in-10 people suffer from chronic dry skin related to eczema, which often first appears in children under two years of age.
Although the exact cause of eczema is unknown, experts agree that it is probably inherited from parents and is the result of the immune system's overreaction to an irritant or trigger. These triggers vary from person to person, but may include incorrect bathing and infrequent moisturizing, emotional stress, allergies, sweating and heavy exercise or winter itch caused by dry skin.
While eczema does get better and worse at times - and often improves with age - it is a chronic condition that cannot be cured. The good news is, it can be controlled. By eliminating triggers, suppressing inflammation once it has started, and moisturizing, protecting and lubricating the skin, eczema flare-ups can be successfully managed.
Treatment programs for eczema may include applying prescribed corticosteroid medications directly to the affected areas to reduce redness and irritation. But, these topical applications are only one part of the treatment puzzle. Recent research shows that when used in combination with a moisturizer, the result is a greater reduction in symptoms.
Keeping skin hydrated is an important step in managing the condition. Moisturizers that are non-irritating, fragrance-free, fast absorbing, non-greasy and specially formulated for chronic dry skin, such as Cetaphil Therapeutic Barrier Cream, are effective and help to relieve and restore the skin's natural protective barrier. The best time to apply moisturizer is right after bathing while the skin is still damp.
Staying away from trigger factors and following a treatment plan - including prescribed medications and moisturization - will help manage the symptoms of chronic dry skin related to eczema. Talk with your doctor about ways to identify and manage your condition. More information about moisturizers is available at www.cetaphil.ca.
- News Canada
Amazon shop now