Minor Cuts and Scrapes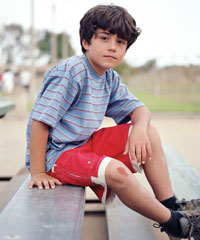 Learn to care for summer's minor cuts and scrapes with effective first aid tips
It's summertime, and for kids it means living a carefree life, having fun with outdoor sports, family vacations, camp and long afternoon picnics by the beach. But if they aren't careful, some of the joys of summer can bring havoc to the largest organ on their body: the skin. As we pack away their winter coats and boots and bring out the t-shirts and sandals, a child's skin becomes more exposed to outside elements and this increases the chances of minor injuries. Many cuts and scrapes don't require a trip to the emergency room, but proper care is important to prevent infection and to speed healing so children can get back into the throes of summer.
Here is what to do:
1. Calm your child and let him/her know you can help
2. Wash your hands thoroughly and if possible, put on gloves before treating a wound
3. If there is bleeding, use a dressing and put direct pressure on the wound
4. Wash the cut area well with soap and water, but do not scrub the wound. Remove any dirt particles from the area and let the water from the faucet run over it for at least 5 minutes. A dirty cut or scrape that is not thoroughly cleaned can cause scarring
5. Once bleeding has stopped, apply a bandage to cover the wound. This will help prevent infection by sealing out dirt and germs and allow the wound to heal faster.
6. For a wound that is a minor scrape and is a little too big for a regular sized adhesive bandage, an alternative suggestion would be to try NexcareT No-Sting Liquid Bandage Spray. It provides an invisible, waterproof shield and because it's alcohol free, it doesn't sting when applied. Covering the wound promotes healing while a child continues to have an active summer's day.
7. If it is a minor scrape, apply an antibiotic cream or ointment before bandaging but don't overuse it as it may affect the bandage's adhesive ability.
8. Avoid blowing on the abrasion, as that can cause germs to grow
9. Check the area each day and keep it clean and dry.
More information on wound care and tips is available online at www.nexcare.ca
Credit: www.newscanada.com
Baby Skin Care Info
-
Minor Cuts
-
Amazon shop now